We offer Underslung Cranes with compact design and lightweight making it easy to operate.
Quite similar to EOT Cranes these also come with similar variation in them such as single or dual disc electromagnetic brakes feature that provide the automatic braking in case of sudden power failure occurs at location, various types of limit switches and push button station options are available.
Motors used in the operation depending upon the application can be selected.
These type of cranes are used where there is exists space constraint for EOT Cranes. These cranes comes are of great use for lifting and movement of the material from one location to another.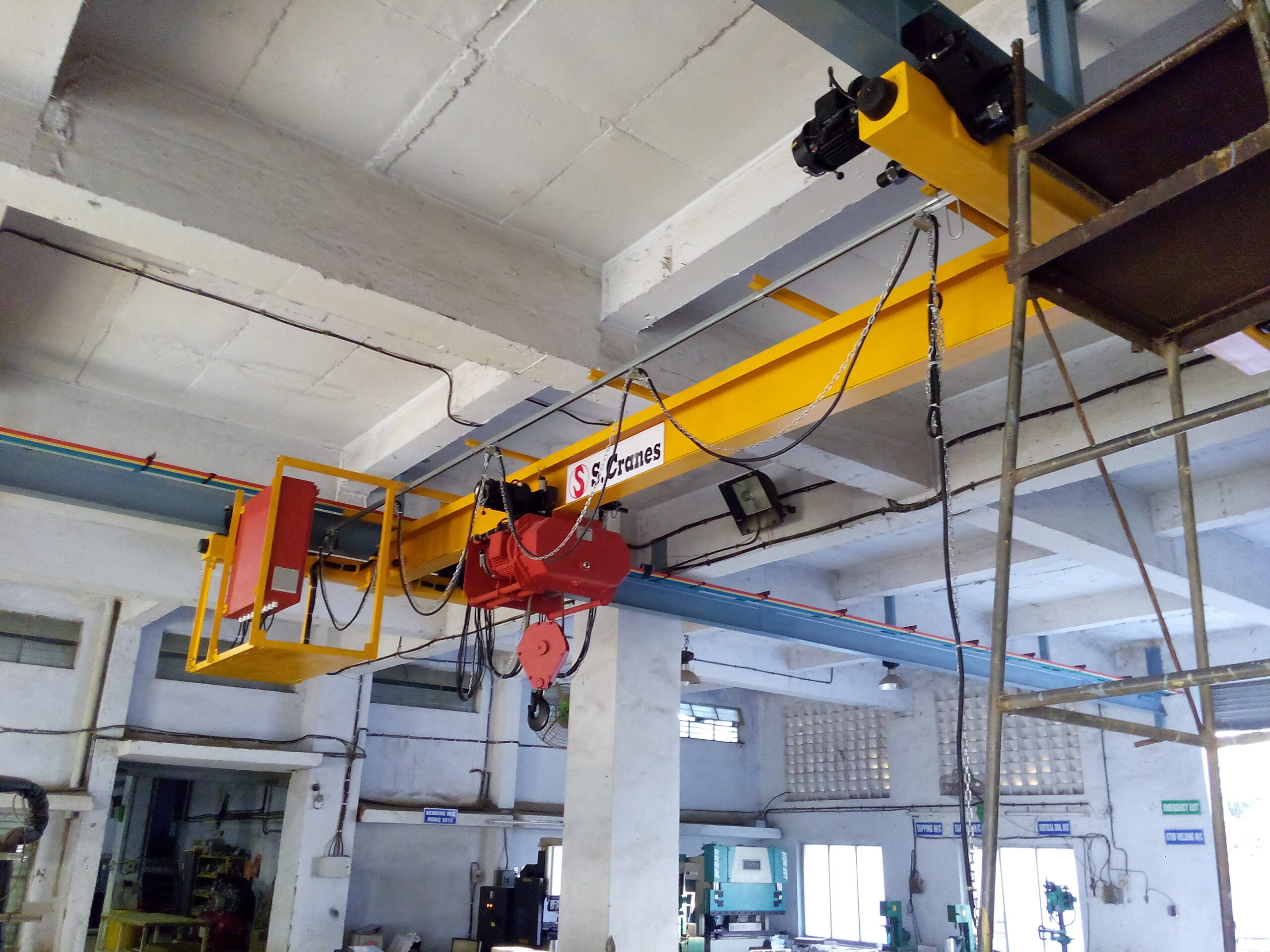 These cranes have variation in the speed of the drives such as single speed or dual speed. Also we provide the option of independent moving push button for shifting and movement of oversize jobs.
M/s S.Cranes Engineering are having expertise in manufacturing world class under slung cranes keeping safety with equivalent quality in mind.
The power of operating our hoist is brought into this super smooth, ultra-light and aesthetic push button. It's easy to handle and smooth in operation. Most important advantage is the flexibility to use it at inclined angles so that big size objects can be easily moved across the location.
It is the most important feature from safety point in vertical travel. In our electric wire rope hoist we provide limit switches, one for avoiding over hoisting and other for controlling the lowering. In either of the cases if the hook travel beyond desired limit possibility of accidents arises which directly gets eliminated by use of our top and bottom limit switch.
Note: If EWRH is being used for monorail operation then we also provide the limit switches at the start and end of the travel in order to prevent the collision on either sides.
Our products comes with the most compact and robust design to meet customers requirement.
Crafting each component efficiently and precisely fitted by our highly skilled technician is what bring the best product out from our factory. Our Design team uses all the latest software's to create 3D model which after thorough validation get implemented in our shop floor for manufacturing.
We have a dedicated paint shop in our factory which helps us complete our crafted product with rust resistant and life enhancing functional reinforced polymer based paint. Each product that is manufactured is initially painted with 2 coats of primer and then we use a combination of enamel epoxy paint in a sequence to give the desired life to the Electric Wire Rope Hoist& prevent rusting of the same.
With our in-house Gear hobbing, gear cutting machine and high temperature furnace provision we are able to achieve the perfection and smoothness in our gear system. We use a combination of Helical and Spur gear in our Electric Wire Rope Hoist.
We provide motors of standard make which is globally available with ease. Our electric wire rope hoist comes with squirrel cage induction, totally enclosed fan cooled type with class F insulated motor which gives us an added advantage of outperforming the life of our electric wire rope hoist.
We provide industry standard and widely available electro-magnetic brakes which help us for emergency stoppage due to sudden power failure to our Electric Wire Rope Hoist.
It's the heart of our hoist.We have mastered the skill of keeping it healthy and with high efficiency non-stop performance. The design is made very ergonomically considering all the parameters. Our dedicated team of electrical engineers have helped us develop these efficient panels. It's just the plug-n-play design wherein only the 3 phase supply needs to be provided. With the help of our electric circuit diagram and guidance of our service engineer any of your electrical technicians can easily install it. We provide fuse – MCB, MPCB to prevent damage to the internal components.