Our Electric Chain Hoists are available for standard & heavy duty applications. Our hoists are designed complying IS 6547, DIN, and American standards. S. Cranes Electric Chain Hoist has many standard features traditionally known as optional by most of the other manufactures. Electric Chain Hoists are also commonly referred to as Motorized Chain Hoists.
Industries like automotive manufacturing, power generation, steel and metal manufacturing, shipbuilding, aviation, ports & shipyards, defence and many more require the products that we offer. The reason for our consistent growth is our delivery of commitment and top-of-the-class quality.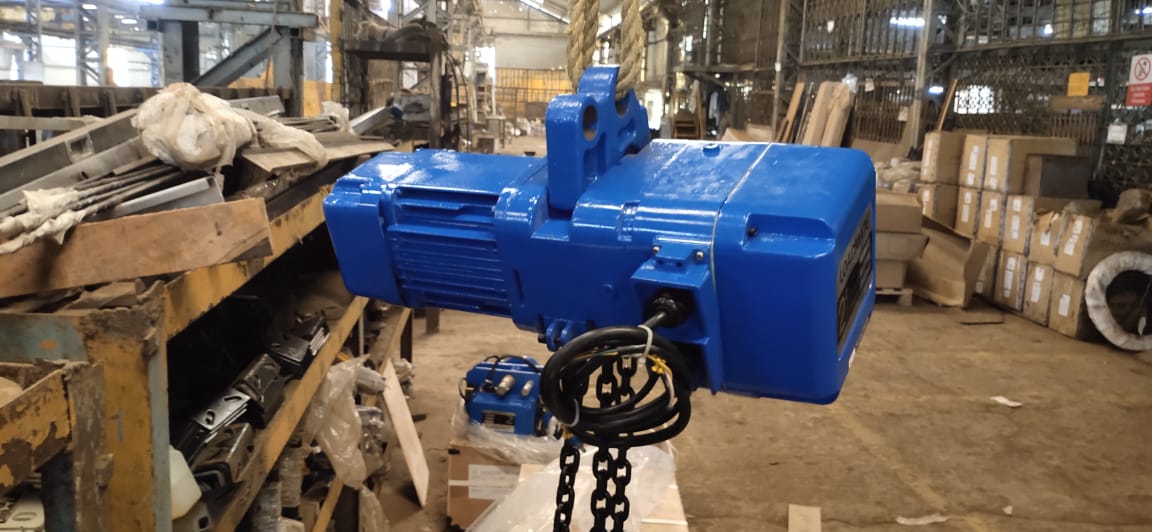 We are having our associates through which we are able to provide reliable and highly efficient chain pulley blocks,  ranging from 0.5Ton capacity to 10Tons with following variation:-
Push Pull Trolley.
Geared Trolley.
Electric Trolley.
The chain provided with our chain pulley blocks are made up of Alloy steel grade 80, which provides the product the desired toughness, durability along with high lateral load bearing strength.
Electric Chain Hoist Range
Manufactured in accordance with the international standards of safety, quality and performance(ISO 16872).
Hook deformation indicator to indicate abuse or overload.
Equipped with top and bottom safety hooks which are designed to bend slowly to warn overload.
One year warranty (ex-work) on all Chain Pulley Block.