Electrical Wire Rope Hoist
We at S.Cranes, make Electric wire rope hoists which are crafted to precision with our well versed engineering background. Our experience in serving the clients since 1979 make us the choice of our clients in all major segments to go with us.
We have a speciality of understanding the needs of our client based on which our engineers provide solutions which are technically proven to match their requirements.
As we are amongst the leading manufacturer of electric hoists in India with a proven track record, our designs are customised to meet all your requirements parallelly complying with all the relevant standards ( BIS, DIN ).
In addition to this we are also having a dedicated design team allocated for R & D, which gives us an upper hand in providing any new engineering challenges in time.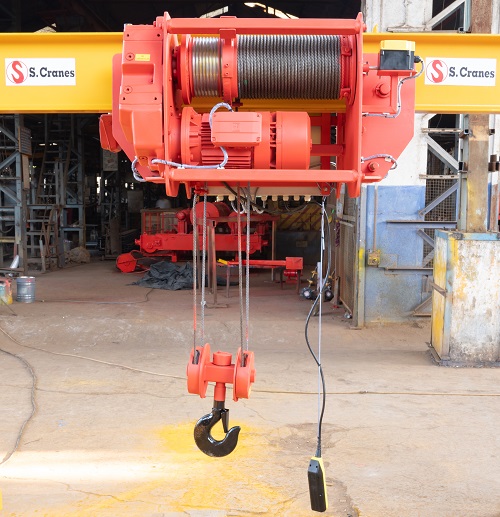 With precision we also use bought out components of reputed makes to have a standardisation and easy availability of spares across the globe.
Wire rope: Usha Martin/ Laptron/ Bharat wire ropes etc.
Electric Motors: Siemens/ ABB/ Hindustan motors etc.
Safety hook: Reputed Make.
Gear Box: Nord or equivalent reputed make.
Rope Drum: CI of reputed m
VVF Drive : Yasakawa or equivalent make.
Rest all components are also of standard and reputed make.
Our products comes with the most compact and robust design to meet your requirement. Crafting each component efficiently and fitting it with support of our highly skilled technician is what bring the best product out from our factory. Our Design team uses all the latest software's to create 3D model which after thorough validation get implemented in our factory for manufacturing.
We are having a dedicated paint shop in our factory which makes us possible to craft the product with precision. Each manufactured products is initially painted with 2 coats of primer and then we use a combination of enamel epoxy paint in sequence to give the desired life to the EWRH & prevent rusting of the same.
With our in-house Gear hobbing, gear cutting machine and high temperature furnace provision we are able to achieve the perfection and smoothness in our gears. We use a combination of Helical and spur gear in our electric wire rope hoist.
We provide the standard make electric motors across globe which are easily available. Our electric wire rope hoist comes with squirrel cage induction, totally enclosed fan cooled type with class F insulation motor which gives us an added advantage of outperforming the life of our electric wire rope hoist.
We provide industry standard and widely available electro-magnetic brakes which helps us for emergency stoppage due to sudden power failure to our electric wire rope hoist.
It's the heart of our hoists. We have mastered the skill of keeping it healthy and with high efficiency non-stop performance. The design is made very ergonomically considering all the parameters. Our dedicated team of electrical engineers have helped us develop these efficient panels. It's just the plug-n-play design wherein only the 3 phase supply needs to be provided. With the help of our electric circuit diagram and guidance of our service engineer any of your electrical technicians can easily install it. We provide fuse – MCB, MPCB to prevent damage to the internal components.
Automobile
Cement
Steel
Pharmaceutical
Mining
Marine
Chemical
Aviation
Variation in electric wire rope hoist model which we provide are as below :-
Electric Wire Rope Hoist provided for straight travel.
Electric Wire Rope Hoist provided for curved travel.
Electric Wire Rope Hoist provided for Flame proof zone.(complying to all gas group & temperature class)
Electric Wire Rope Hoist provided for Hazardous zone.(complying to all gas group & temperature class)
Also we are open to provide new solutions for any new engineering challenges in material handling solution.